OmniPad Redsign
An ipad App helps to manage your customers.

OmniPad is a product that helps retail industry to achieve OMO (Online merges Offline) circulation. Through OmniPad, clerks can manage their own customers easily.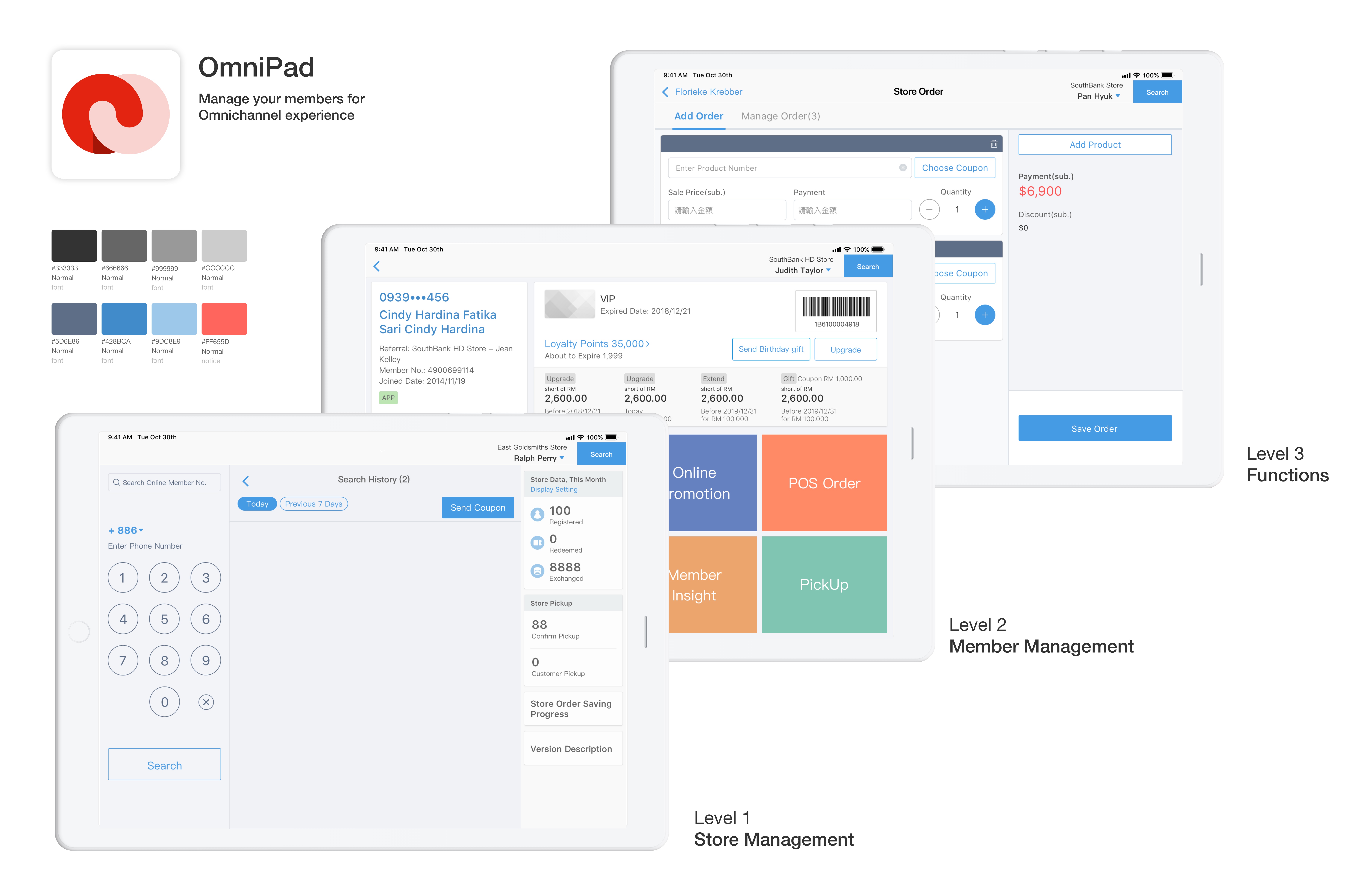 1. Be international
Users who use any language can use the product.
2. Be flexible
The coming new requirements should be added easily in the structur


3. Be friendly
Consider user scenarios, especially users are store clerks (busy, unfamiliar with digital device)


1. Define the problems (users' and business)
Requirements interview is a quick way for B2B2C firm to collect feedbacks from colleagues, such as account managers. In order to define the problem, we sort feedbacks (requirements, current problems and user scenarios) into design principle and product backlog. And then, through building flows from those outcomes, we are getting clear views, closing to the user and the product.

Research and Interview are mainly for some features that we cannot really get clear feedbacks from colleagues. But, the research plan is for the whole product. Through observing store clerks' working process, we know more about the relationship between clerks, consumers and tools. The real user case is not as ideal as we thought in the firm.

Competitor analysis is the very last thing we do for the project, because the similar products are a few. We have more complex features and provide more solutions than others. However, it's interesting to make assumptions for what their products will be.



2. Sketch a prototype
According to the outcomes from interviews, we use them to discuss what the interface could be. And then, making prototypes is the next step to validate with account managers. During the process, we discover more details about information, such as why to show, how to show and what do users need. These details help to complete user scenarios.

Discussing with colleagues, including product owners, design manager and developers is the key to accelerate the development process. The rapid prototyping and discussions are the process of compromising to different roles, it's important to achieve the user-friendly experience, business goal and quick development.

3. Prepare for development
Designer not only delivers design to users, but also delivers to developers. It's a collaboration process to build component system and understand each other's perspectives, such as the limitations of developers and the requirements from user and business.